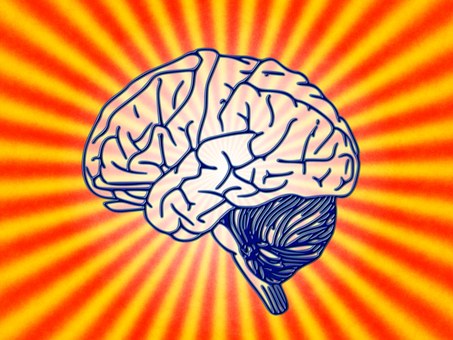 A healthy brain means a sharper mind, more balanced mood and consistent energy levels, leading to improved mental and emotional health. Some recent studies have highlighted ways of improving brain health and age-related memory decline through a healthy lifestyle. The first study has found that vitamin D is the 'key to a healthy brain', and the second study has linked better physical fitness to improved memory function.
Vitamin D and Better brain Function
Scientists have produced further evidence of the immense health benefits of vitamin D, and its important role in keeping the brain in good working order in later life. They found that higher levels of vitamin D - primarily synthesized in the skin following sun exposure but also found in certain foods such as oily fish - are associated with improved cognitive function in middle-aged and older men. So fish really is a brain food, as is a healthy dose of sunshine.
Study details:
Lee et al. Association between 25-hydroxyvitamin D levels and cognitive performance in middle-aged and older European men. Journal of Neurology, Neurosurgery and Psychiatry, 2009
The study compared the cognitive performance of more than 3,000 men aged 40 to 79 years at eight test centers across Europe. Researchers found that men with higher levels of vitamin D performed consistently better in a simple and sensitive neuropsychological test that assesses an individual's attention and speed of information processing.
The lead author explained:
"Previous studies exploring the relationship between vitamin D and cognitive performance in adults have produced inconsistent findings but we observed a significant, independent association between a slower information processing speed and lower levels of vitamin D,"

"The main strengths of our study are that it is based on a large population sample and took into account potential interfering factors, such as depression, season and levels of physical activity."

"Interestingly, the association between increased vitamin D and faster information processing was more significant in men aged over 60 years, although the biological reasons for this remain unclear."
Physical fitness Improves Spatial memory and Increases Size of brain
This new research has found that the hippocampus is larger in physically fit adults, and that they have better spatial memory than those who are less fit.
When it comes to the hippocampus, a brain structure vital to certain types of memory, size matters. Numerous studies have shown that bigger is usually better. This study found that in elderly physically fit adults, the hippocampus size accounted for about 40 percent of their advantage in spatial memory.
The hippocampus, a curved structure deep inside the medial temporal lobe of the brain, is essential to memory formation. Remove it and a person's ability to store most new experiences in memory is destroyed, as has previously been demonstrated. The hippocampus also is a key player in spatial navigation and other types of relational memory.
Certain activities are believed to modify hippocampus size in humans. For example, a study of London taxi drivers found that the posterior portion of the hippocampus was larger in experienced taxi drivers than in other subjects. And a study of German medical students found that the same region of the hippocampus increased in size as they studied for their final exams.
Studies also have found that the hippocampus shrinks with age, a process that coincides with small but significant cognitive declines. The rate at which this occurs, however, differs among individuals.
Earlier studies found that exercise increases hippocampus size and spatial memory in rodents, but the new study is the first to demonstrate that exercise can affect hippocampus size and memory in humans.
The researchers measured the cardiorespiratory fitness of 165 adults (109 of them female) between 59 and 81 years of age. Using magnetic resonance imaging, the researchers conducted a volumetric analysis of the subjects' left and right hippocampi. They also tested the participants' spatial reasoning.
They found a significant association between an individual's fitness and his or her performance on certain spatial memory tests. There was also a strong correlation between fitness and hippocampus size.
The author said:
"The higher fit people have a bigger hippocampus, and the people that have more tissue in the hippocampus have a better spatial memory,"

"Even ignoring the hippocampus data, we see there is this significant and substantial relationship between how fit you are and how good your memory is, or at least a certain kind of memory, a certain kind of memory that we need all the time,"

"This is really a clinically significant finding because it supports the notion that your lifestyle choices and behaviors may influence brain shrinkage in old age,"

"Basically, if you stay fit, you retain key regions of your brain involved in learning and memory."
Study details:
Erickson KI, Prakash RS, Voss MW, et al. Aerobic fitness is associated with hippocampal volume in elderly humans. Hippocampus, 2009.