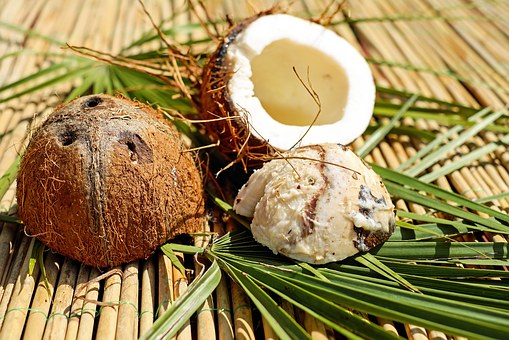 These deliciously soft, crumbly cookies are made with coconut oil instead of butter, and also contain shredded coconut, so they are a great way of incorporating coconut into your diet. They provide all the amazing health benefits of coconuts and coconut oil in a mouth-watering snack.
These cookies use half the amount of sugar as conventional biscuits, so they are not as sweet. Instead, the shredded coconut, walnuts, oats and cinnamon provide flavor and a slight sweetness to the cookies.
This recipe makes about 30 cookies and each cookie contains approximately half a tablespoon of coconut oil.
Ingredients
½ cup unrefined raw cane sugar
2 large eggs
½ tsp vanilla extract
1 ½ cups plain flour
1 cup oats
½ cup shredded (dessicated) coconut
½ tsp baking soda (bicarbonate of soda)
1 tsp cinnamon
¼ tsp salt
½ cup walnuts, chopped
Preparation
Mix together the sugar, liquid coconut oil, eggs and vanilla.

In a separate bowl, combine the flour, oats, shredded coconut, baking soda, cinnamon and salt. Stir this with the wet mixture. Work quickly before the coconut oil starts to harden - you may need to use your hands. Fold in the walnuts.

Roll the mixture into 1 ½-inch balls and place on a baking sheet 2 inches apart, flattening the balls slightly.

Bake in a preheated oven, gas mark 5 or 190°C (375°F) for 10 minutes or until the cookies are golden brown.