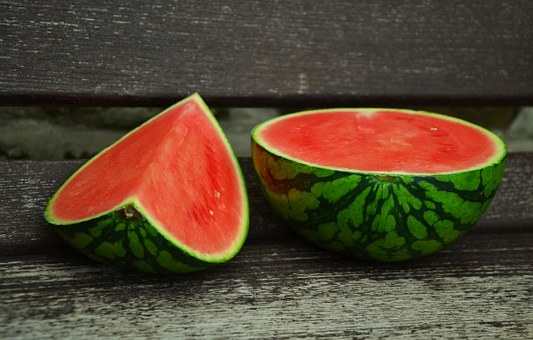 Deliciously sweet and refreshing, the watermelon is a tasty thirst-quenching summer fruit that is also packed with the antioxidants Vitamin C and Vitamin A. Eating this juicy fruit is an excellent way to replenish and rehydrate the body, and watermelon contains minerals that help the body to use its fluid most effectively. The scholar Ibn al-Qayyim mentioned the cleansing properties of watermelon, especially when eaten before food, in his Prophetic Medicine.
Watermelon has also been associated with reducing the inflammation that contributes to conditions like asthma, atherosclerosis, diabetes, colon cancer, and arthritis.
Watermelon is related to the cantaloupe, squash and pumpkin, other plants that also grow on vines on the ground. Watermelons can be round, oblong or spherical in shape and have thick green rinds that are often spotted or striped. They range in size from a few pounds to upward of ninety pounds.
Although watermelon contains about 92% water, it is also an excellent source of Vitamin C and a very good source of Vitamin A, through its concentration of Beta-carotene. The lycopene content of watermelon is comparable to what is found in raw tomatoes. A one-cup serving of watermelon contains about the same amount of lycopene as two medium-sized tomatoes. Studies also suggest that the body's ability to absorb lycopene in fresh watermelon may be comparable to that in tomato juice, which is considered the optimal source of lycopene. Lycopene is a potent carotenoid that has been found to protect against certain cancers, heart disease, age-related macular degeneration and has anti-inflammatory properties.
Another key nutrient found in water melon is vitamin B, especially B1 (thiamine) and B6 (pyridoxine). The B-vitamins provide energy, and thiamine in particular is important for a healthy nervous system. Pyridoxine, or vitamin B6 is essential for aiding enzymes that convert food into energy.
Health Benefits
A human case-control study conducted in Korea found that men with a high intake of watermelon, along with other fruit, had a lower risk of colorectal cancer.
Another human study involving 130 patients with prostate cancer found that those who consumed watermelon, along with other foods high in carotenoids, had a lower risk of prostate cancer.
Tips for Using Watermelon
Every part of a watermelon is edible, even the seeds and rind.

Unlike many fruits, watermelon loses little of its nutritional value when its cut, so slices can be kept in the fridge for a few days.

Whole melons will keep for 7 to 10 days at room temperature.
References