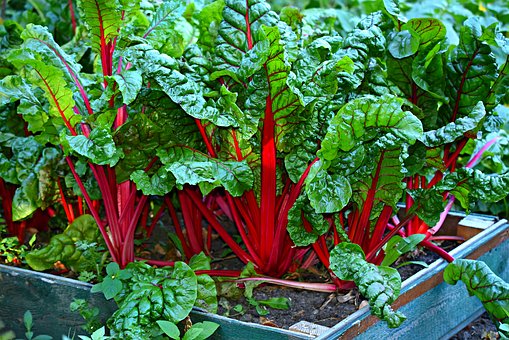 Chard is a green vegetable with an exceptionally impressive list of health promoting nutrients. Its high Beta-carotene content makes it beneficial for healthy eyesight, it contains calcium and magnesium which promote healthy bones and nerves, and its high Vitamin C and E levels provide antioxidant protection and immune system support. Its high levels of many other nutrients and phytonutrients ensure it is beneficial for digestive and reproductive health, and make it an excellent addition to the diet.
Chard is a tall leafy green vegetable commonly referred to as swiss chard. It is a member of the beet family, and its taste is somewhere between spinach and beets. Both the leaves and stalk of chard are edible.
Chard is an excellent source of vitamin K, Vitamin A, Vitamin C, magnesium, manganese, potassium, iron, Vitamin E and dietary fiber. It is a very good source of copper, calcium, vitamin B2, vitamin B6 and protein. In addition, swiss chard is a good source of phosphorus, vitamin B1, zinc, folate, biotin, niacin and pantothenic acid. It also contains the carotenoids zeaxanthin and lutein, which are important vision nutrients.
Health Benefits
Studies have found that both the leaves and the roots of swiss chard have health-promoting benefits. Its combination of phytonutrients (particularly anthocyans), plus fiber in this food seems particularly effective in preventing digestive tract cancers. Several research studies on chard focus specifically on colon cancer, where the occurrence of precancerous lesions in animals has been found to be significantly reduced following intake of swiss chard extracts or fibers. Preliminary animal research also suggests that swiss chard may have a protective effect on the kidneys of those with diabetes, through reducing serum urea and creatinine levels.
Components from chard where found to inhibit cell proliferation of human cancer cells. A study performed on human breast cancer cells found that the flavonoids present in chard stopped the growth and DNA reproduction of the cells.
Diabetes and heart Health
Several studies performed on diabetic rats found that feeding them chard controlled blood glucose and either reversed, stabilized, or prevented the negative effects of diabetes such as nerve damage and heart disease.
Tips for Using Chard
Wash the chard well to remove any sand or soil that may be hidden in the leaves.

Use chard in place of or in addition to spinach. The stems of chard can also be used as a broccoli substitute.

Since the stalks are thicker in texture, they will take longer to cook than the leaves, so their cooking should be started a few minutes earlier.
References