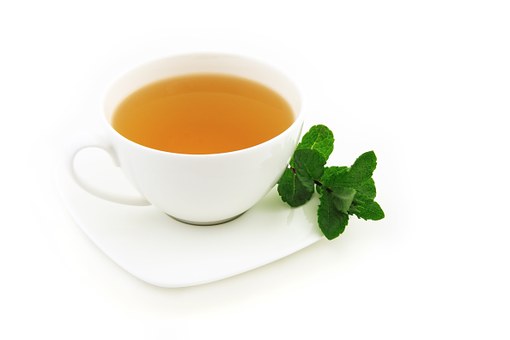 Extensive research has been carried out into the health benefits of green tea. It is the most popular tea consumed in China, and contains the highest concentration of beneficial phytonutrients and least caffeine of all the teas.
Green tea contains a high level of antioxidants known as polyphenols. When present in tea, these polyphenols are called catechins. The most abundant catechin found in green tea is EGCG (or epigallocatechin-3-gallate). This antioxidant is thought to play a pivotal role in the positive health effects of green tea.
Studies show that drinkers of green tea have a lower risk of a wide range of diseases. These vary from simple viral or bacterial infections, to degenerative conditions including cancer, cardiovascular disease, stroke, osteoporosis and periodontal disease. Green tea has also shown to alleviate symptoms of illnesses such as diabetes, liver disease and arthritis.
As well as protecting against cancer, research has shown that green tea can stop the development of cancer. A study conducted by Rochester University discovered that green tea contains chemicals which shut down a molecule that can trigger the development of cancer. This molecule is called aryl hydrocarbon (AH), and it has the ability to activate potentially harmful genes in the presence of other factors, especially dioxins, potentially causing the onset on cancer.
The study found that two chemicals in green tea inhibit AH activity. These chemicals are similar to flavonoids, which are found in broccoli, cabbage, grapes and other fruit and vegetables.
Green tea has a slightly bitter, astringent taste and can be brewed with ginger, honey, lemon or mint, to reduce bitterness and sweeten it.
Green tea is a herb and it contains active substances that interact with other herbs, supplements and medications. Therefore, like all herbs it should be taken with caution and in moderation.
The following is a list of research articles for those who are interested in them, reproduced from this source:
Adhami VM, Siddiqui IA, Ahmad N, Gupta S, Mukhtar H. Oral consumption of green tea polyphenols inhibits insulin-like growth factor-I-induced signaling in an autochthonous mouse model of prostate cancer. Cancer Res. 2004 Dec 1;64(23):8715-22. PMID:15574782.
Aneja R, Hake PW, Burroughs TJ, Denenberg AG, Wong HR, Zingarelli B. Epigallocatechin, a green tea polyphenol, attenuates myocardial ischemia reperfusion injury in rats. Mol Med. 2004 Jan-Jun;10(1-6):55-62. PMID:15502883.
Azam S, Hadi N, Khan NU, Hadi SM. Prooxidant property of green tea polyphenols epicatechin and epigallocatechin-3-gallate: implications for anticancer properties. Toxicol In Vitro. 2004 Oct;18(5):555-61. PMID:15251172.
Baek SJ, Kim JS, Jackson FR, Eling TE, McEntee MF, Lee SH. Epicatechin gallate-induced expression of NAG-1 is associated with growth inhibition and apoptosis in colon cancer cells. Carcinogenesis. 2004 Aug 12; [Epub ahead of print]. PMID:15308587.
Bastianetto S, Yao ZX, Papadopoulos V, Quirion R. Neuroprotective effects of green and black teas and their catechin gallate esters against beta-amyloid-induced toxicity. Eur J Neurosci. 2006 Jan;23(1):55-64. PMID:16420415.
BBC health News. Green tea 'may protect the heart. 2005/02/28, http://news.bbc.co.uk/go/pr/fr/-/1/hi/health/4298403.stm.
Chen D, Daniel KG, Kuhn DJ, Kazi A, Bhuiyan M, Li L, Wang Z, Wan SB, Lam WH, Chan TH, Dou QP. Green tea and tea polyphenols in cancer prevention. Front Biosci. 2004 Sep 01;9:2618-31. PMID:15358585.
Chen JH, Tipoe GL, Liong EC, So HS, Leung KM, Tom WM, Fung PC, Nanji AA. Green tea polyphenols prevent toxin-induced hepatotoxicity in mice by down-regulating inducible nitric oxide-derived prooxidants. Am J Clin Nutr. 2004 Sep;80(3):742-51. PMID:15321817.
Choi YB, Kim YI, Lee KS, Kim BS, Kim DJ. Protective effect of epigallocatechin gallate on brain damage after transient middle cerebral artery occlusion in rats. Brain Res. 2004 Sep 3;1019(1-2):47-54. PMID:15306237.
Chow HH, Hakim IA, Vining DR, et al. Modulation of human glutathione s-transferases by polyphenon e intervention. Cancer Epidemiol Biomarkers Prev. 2007 Aug;16(8):1662-6. PMID:17684143.
Coimbra S, Castro E, Rocha-Pereira P, Rebelo I, Rocha S, Santos-Silva A. The effect of green tea in oxidative stress. Clin Nutr. 2006 Oct;25(5):790-6. Epub 2006 May 15. PMID:16698148.
Coimbra S, Santos-Silva A, Rocha-Pereira P, Rocha S, Castro E. Green tea consumption improves plasma lipid profiles in adults. Nutr Res. 2006 Nov;26(11):604-7.
Devine A, Hodgson JM, Dick IM, Prince RL. Tea drinking is associated with benefits on bone density in older women. Am J Clin Nutr. 2007 Oct;86(4):1243-7. PMID:17921409.
Donovan JL, Chavin KD, Devane CL, Taylor RM, Wang JS, Ruan Y, Markowitz JS. Green tea (Camellia sinensis) extract does not alter cytochrome p450 3A4 or 2D6 activity in healthy volunteers. Drug Metab Dispos. 2004 Sep;32(9):906-8. PMID:15319329.
Eckert RL, Crish JF, Efimova T, Balasubramanian S. Antioxidants regulate normal human keratinocyte differentiation. Biochem Pharmacol. 2004 Sep 15;68(6):1125-31. PMID:15313409.
Ensminger AH, Ensminger, ME, Kondale JE, Robson JRK. Foods & Nutriton Encyclopedia. Pegus Press, Clovis, California 1983.
Fassina G, Vene R, Morini M, Minghelli S, Benelli R, Noonan DM, Albini A. Mechanisms of inhibition of tumor angiogenesis and vascular tumor growth by epigallocatechin-3-gallate. Clin cancer Res. 2004 Jul 15;10(14):4865-73. PMID:15269163.
Gardner EJ, Ruxton CH, Leeds AR. Black tea - helpful or harmful? A review of the evidence. Eur J Clin Nutr. 2006 Jul 19; [Epub ahead of print] . PMID:16855537.
Gates MA, Tworoger SS, Hecht JL, De Vivo I, Rosner B, Hankinson SE. A prospective study of dietary flavonoid intake and incidence of epithelial ovarian cancer. Int J cancer. 2007 Apr 30; [Epub ahead of print]. PMID:17471564.
Geetha T, Garg A, Chopra K, Pal Kaur I. Delineation of antimutagenic activity of catechin, epicatechin and green tea extract. Mutat Res. 2004 Nov 22;556(1-2):65-74. PMID:15491633.
Ghosh KS, Maiti TK, Dasgupta S. Green tea polyphenols as inhibitors of ribonuclease A. Biochem Biophys Res Commun. 2004 Dec 17;325(3):807-11. PMID:15541362.
Gouni-Berthold I, Sachinidis A. Molecular mechanisms explaining the preventive effects of catechins on the development of proliferative diseases. Curr Pharm Des. 2004;10(11):1261-71. PMID:15078140.
Hakim IA, Harris RB, Chow HH, Dean M, Brown S, Ali IU. Effect of a 4-month tea intervention on oxidative DNA damage among heavy smokers: role of glutathione S-transferase genotypes. Cancer Epidemiol Biomarkers Prev. 2004 Feb;13(2):242-9. PMID:14973088.
Han YS, Bastianetto S, Dumont Y, Quirion R. Specific plasma membrane binding sites for polyphenols, including resveratrol, in the rat brain. J Pharmacol Exp Ther. 2006 Mar 30; [Epub ahead of print]. PMID:16574779.
Haque AM, Hashimoto M, Katakura M, Tanabe Y, Hara Y, Shido O. Long-term administration of green tea catechins improves spatial cognition learning ability in rats. J Nutr. 2006 Apr;136(4):1043-7. PMID:16549472.
Huh SW, Bae SM, Kim YW, Lee JM, Namkoong SE, Lee IP, Kim SH, Kim CK, Ahn WS. Anticancer effects of (-)-epigallocatechin-3-gallate on ovarian carcinoma cell lines. Gynecol Oncol. 2004 Sep;94(3):760-8. PMID:15350370.
Hussain T, Gupta S, Adhami VM, Mukhtar H. Green tea constituent epigallocatechin-3-gallate selectively inhibits COX-2 without affecting COX-1 expression in human prostate carcinoma cells. Int J cancer. 2004 Sep 28; [Epub ahead of print]. PMID:15455372.
Ikeda I, Tsuda K, Suzuki Y, Kobayashi M, Unno T, Tomoyori H, Goto H, Kawata Y, Imaizumi K, Nozawa A, Kakuda T. Tea catechins with agalloyl moiety suppress postprandial hypertriacylglycerolemia by delaying lymphatic transport of dietary fat in rats. J Nutr. 2005 Feb;135(2):155-9. PMID:15671206.
Irwin K. Green tea extract has potential as an anti-cancer agent, according to a study by UCLA researchers. UCLA News, February 15, 2005.
Jian L, Lee AH, Binns CW. Tea and lycopene protect against prostate cancer. Asia Pac J Clin Nutr. 2007;16 Suppl 1:453-7. PMID:17392149.
Ju J, Liu Y, Hong J, Huang MT, Conney AH, Yang CS. Effects of green tea and high-fat diet on arachidonic acid metabolism and aberrant crypt foci formation in an azoxymethane-induced colon carcinogenesis mouse model. Nutr cancer. 2003;46(2):172-8. PMID:14690793.
Juhel C, Armand M, Pafumi Y, Rosier C, Vandermander J, Lairon D. Green tea extract (AR25(R border=0> inhibits lipolysis of triglycerides in gastric and duodenal medium in vitro. J Nutr Biochem. 2000 Jan;11(1):45-51. PMID:15539342.
Kim DW, Park YS, Kim YG, Piao H, Kwon JS, Hwang KK, Youn TJ, Park JB, Yun YP, Sachinidis A, Kim CH, Cho MC, Ahn HY. Local delivery of green tea catechins inhibits neointimal formation in the rat carotid artery injury model. Heart Vessels. 2004 Sep;19(5):242-7. PMID:15372300.
Koo MW, Cho CH. Pharmacological effects of green tea on the gastrointestinal system. Eur J Pharmacol. 2004 Oct 1;500(1-3):177-85. PMID:15464031.
Koyama Y, Abe K, Sano Y, Ishizaki Y, Njelekela M, Shoji Y, Hara Y, Isemura M. Effects of green tea on Gene Expression of Hepatic Gluconeogenic enzymes in vivo. Planta Med. 2004 Nov;70(11):1100-1102. PMID:15549673.
Kurahashi N, Sasazuki S, Iwasaki M, Inoue M; Shoichiro Tsugane for the JPHC Study Group. Green tea Consumption and prostate cancer Risk in Japanese Men: A Prospective Study. Am J Epidemiol. 2007 Sep 29; [Epub ahead of print] . PMID:17906295.
Kuriyama S, Hozawa A, Ohmori K, Shimazu T, Matsui T, Ebihara S, Awata S, Nagatomi R, Arai H, Tsuji I. Green tea consumption and cognitive function: a cross-sectional study from the Tsurugaya Project 1. Am J Clin Nutr. 2006 Feb;83(2):355-61. PMID:16469995.
Kuriyama S, Shimazu T, Ohmori K, Kikuchi N, Nakaya N, Nishino Y, Tsubono Y, Tsuji I. Green tea consumption and mortality due to cardiovascular disease, cancer, and all causes in Japan: the Ohsaki study. JAMA. 2006 Sep 13;296(10):1255-65. PMID:16968850.
Lambert JD, Hong J, Kim DH, Mishin VM, Yang CS. Piperine enhances the bioavailability of the tea polyphenol (-)-epigallocatechin-3-gallate in mice. J Nutr. 2004 Aug;134(8):1948-52. PMID:15284381.
Larsson SC, Wolk A. Tea consumption and ovarian cancer risk in a population-based cohort. Arch Intern Med. 2005 Dec 12-26;165(22):2683-6. PMID:16344429.
Levites Y, Amit T, Youdim MB, Mandel S. Involvement of protein kinase C activation and cell survival/ cell cycle genes in green tea polyphenol (-)-epigallocatechin 3-gallate neuroprotective action. J Biol Chem. 2002 Aug 23;277(34):30574-80. PMID:12058035.
Liu YJ, Pan BS. Inhibition of fish gill lipoxygenase and blood thinning effects of green tea extract. J Agric Food Chem. 2004 Jul 28;52(15):4860-4. PMID:15264926.
Lorenz M, Jochmann N, von Krosigk A, Martus P, Baumann G, Stangl K, Stangl V. Addition of milk prevents vascular protective effects of tea. Eur heart J. 2007 Jan;28(2):219-23. Epub 2007 Jan 9. PMID:17213230.
Lu QY, Jin YS, Pantuck A, Zhang ZF, Heber D, Belldegrun A, Brooks M, Figlin R, Rao J. Green tea extract modulates actin remodeling via Rho activity in an in vitro multistep carcinogenic model. Clin cancer Res. 2005 Feb 15;11(4):1675-83. PMID:15746073.
Mandel S, Youdim MB. Catechin polyphenols: neurodegeneration and neuroprotection in neurodegenerative diseases. Free Radic Biol Med. 2004 Aug 1;37(3):304-17. PMID:15223064.
Mei Y, Qian F, Wei D, Liu J. Reversal of cancer multidrug resistance by green tea polyphenols. J Pharm Pharmacol. 2004 Oct;56(10):1307-14. PMID:15482646.
Mittal A, Pate MS, Wylie RC, Tollefsbol TO, Katiyar SK. EGCG down-regulates telomerase in human breast carcinoma MCF-7 cells, leading to suppression of cell viability and induction of apoptosis. Int J Oncol. 2004 Mar;24(3):703-10. PMID:14767556.
Mohamadin AM, El-Beshbishy HA, El-Mahdy MA. Green tea extract attenuates cyclosporine A-induced oxidative stress in rats. Pharmacol Res. 2005 Jan;51(1):51-7. PMID:15519535.
Muraki S, Yamamoto S, Oka H, Yoshimura N, Kawaguchi, H, Orimo H, Nakamura K. Green tea drinking is associated with increased bone mineral density in elderly women. Study P187SA, presented at the International osteoporosis Foundation World Congress on osteoporosis, Toronto, Canada, June 5, 2006.
Murase T, Haramizu S, Shimotoyodome A, Nagasawa A, Tokimitsu I. Green tea extract improves endurance capacity and increases muscle lipid oxidation in mice. Am J Physiol Regul Integr Comp Physiol. 2004 Nov 24; [Epub ahead of print]. PMID:15563575.
Nagao T, Komine Y, Soga S, Meguro S, Hase T, Tanaka Y, Tokimitsu I. Ingestion of a tea rich in catechins leads to a reduction in body fat and malondialdehyde-modified LDL in men. Am J Clin Nutr. 2005 Jan;81(1):122-9. PMID:15640470.
Navarro-Peran E, Cabezas-Herrera J, Garcia-Canovas F, Durrant MC, Thorneley RN, Rodriguez-Lopez JN. The antifolate activity of tea catechins. Cancer Res. 2005 Mar 15;65(6):2059-64. PMID:15781612.
Negishi H, Xu JW, Ikeda K, Njelekela M, Nara Y, Yamori Y. Black and green tea polyphenols attenuate blood pressure increases in stroke-prone spontaneously hypertensive rats. J Nutr. 2004 Jan;134(1):38-42. PMID:14704290.
Niwattisaiwong N, Luo XX, Coville PF, Wanwimolruk S. Effects of Chinese, Japanese and Western tea on hepatic P450 enzyme activities in rats. Drug Metabol Drug Interact. 2004;20(1-2):43-56. PMID:15283302.
Ostrowska J, Luczaj W, Kasacka I, Rozanski A, Skrzydlewska E. Green tea protects against ethanol-induced lipid peroxidation in rat organs. Alcohol. 2004 Jan;32(1):25-32. PMID:15066700.
Ouyang P, Peng WL, Lai WY, Xu AL. [Green tea polyphenols inhibit low-density lipoprotein-induced proliferation of rat vascular smooth muscle cells]. Di Yi Jun Yi Da Xue Xue Bao. 2004 Sep;24(9):975-9. PMID:15447839.
Ouyang P, Peng WL, Xu DL, Lai WY, Xu AL. Green tea polyphenols inhibit advanced glycation end product-induced rat vascular smooth muscle cell proliferation. Di Yi Jun Yi Da Xue Xue Bao. 2004 Mar;24(3):247-51. PMID:15041533.
Park HJ, Shin DH, Chung WJ, Leem K, Yoon SH, Hong MS, Chung JH, Bae JH, Hwang JS. Epigallocatechin gallate reduces hypoxia-induced apoptosis in human hepatoma cells. Life Sci. 2006 Jan 26; [Epub ahead of print]. PMID:16445947.
Pezzato E, Sartor L, Dell'Aica I, Dittadi R, Gion M, Belluco C, Lise M, Garbisa S. Prostate carcinoma and green tea: PSA-triggered basement membrane degradation and MMP-2 activation are inhibited by (-)epigallocatechin-3-gallate. Int J cancer. 2004 Dec 10;112(5):787-92. PMID:15386386.
Reznichenko L, Amit T, Zheng H, Avramovich-Tirosh Y, Youdim MB, Weinreb O, Mandel S. Reduction of iron-regulated amyloid precursor protein and beta-amyloid peptide by (-)-epigallocatechin-3-gallate in cell cultures: implications for iron chelation in Alzheimer's disease. J Neurochem. 2006 Mar 15; [Epub ahead of print]. PMID:16539659.
Sakanaka S, Okada Y. Inhibitory effects of green tea polyphenols on the production of a virulence factor of the periodontal-disease-causing anaerobic bacterium Porphyromonas gingivalis. J Agric Food Chem. 2004 Mar 24;52(6):1688-92. PMID:15030231.
Saleem M, Adhami VM, Siddiqui IA, Mukhtar H. Tea beverage in chemoprevention of prostate cancer: a mini-review. Nutr cancer. 2003;47(1):13-23. PMID:14769533.
Sano J, Inami S, Seimiya K, Ohba T, Sakai S, Takano T, Mizuno K. Effects of green tea intake on the development of coronary artery disease. Circ J. 2004 Jul;68(7):665-70. PMID:15226633.
Sartippour MR, Heber D, Henning S, Elashoff D, Elashoff R, Rubio R, Zhang L, Norris A, Brooks MN. cDNA microarray analysis of endothelial cells in response to green tea reveals a suppressive phenotype. Int J Oncol. 2004 Jul;25(1):193-202. PMID:15202006.
Sasazuki S, Kodama H, et al. Relation between green tea consumption and the severity of coronary atherosclerosis among Japanese men and women. Ann Epidemiol 2000 Aug;10(6):401-8 2000.
Schwartz JL, Baker V, Larios E, Chung FL. Molecular and cellular effects of green tea on oral cells of smokers: A pilot study. Mol Nutr Food Res. 2004 Nov 11; [Epub ahead of print]. PMID:15538715.
Shirai N, Suzuki H. Effects of Western, Vegetarian, and Japanese dietary fat model diets with or without green tea extract on the plasma lipids and glucose, and liver lipids in mice. A long-term feeding experiment. Ann Nutr Metab. 2004;48(2):95-102. Epub 2004 Feb 25. PMID:14988639.
Siddiqui IA, Afaq F, Adhami VM, Ahmad N, Mukhtar H. Antioxidants of the beverage tea in promotion of human health. Antioxid Redox Signal. 2004 Jun;6(3):571-82. PMID:15130283.
Son DJ, Cho MR, Jin YR, Kim SY, Park YH, Lee SH, Akiba S, Sato T, Yun YP. Antiplatelet effect of green tea catechins: a possible mechanism through arachidonic acid pathway. Prostaglandins Leukot Essent fatty acids. 2004 Jul;71(1):25-31. PMID:15172681.
Song JM, Lee KH, Seong BL. Antiviral effect of catechins in green tea on influenza virus. Antiviral Res. 2005 Nov;68(2):66-74. Epub 2005 Aug 9. PMID:16137775.
Stephanou A. Role of STAT-1 and STAT-3 in ischaemia/reperfusion injury. J Cell Mol Med. 2004 Oct-Dec;8(4):519-25. PMID:15601580.
Sugiyama T, Sadzuka Y. Theanine, a specific glutamate derivative in green tea, reduces the adverse reactions of doxorubicin by changing the glutathione level. Cancer Lett. 2004 Aug 30;212(2):177-84. PMID:15279898.
Sun CL, Yuan JM, Koh WP, Yu MC. green tea, black tea and breast cancer risk: a meta-analysis of epidemiological studies. Carcinogenesis. 2006 Jul;27(7):1310-5. PMID:16855537.
Suzuki M, Tabuchi M, Ikeda M, Umegaki K, Tomita T. Protective effects of green tea catechins on cerebral ischemic damage. Med Sci Monit. 2004 Jun;10(6):BR166-74. PMID:15173662.
Tian WX, Li LC, Wu XD, Chen CC. Weight reduction by Chinese medicinal herbs may be related to inhibition of fatty acid synthase. Life Sci. 2004 Mar 26;74(19):2389-99. PMID:14998716.
Townsend PA, Scarabelli TM, Pasini E, Gitti G, Menegazzi M, Suzuki H, Knight RA, Latchman DS, Stephanou A. Epigallocatechin-3-gallate inhibits STAT-1 activation and protects cardiac myocytes from ischemia/reperfusion-induced apoptosis. FASEB J. 2004 Oct;18(13):1621-3. PMID:15319365.
Tsuneki H, Ishizuka M, Terasawa M, Wu JB, Sasaoka T, Kimura I. Effect of green tea on blood glucose levels and serum proteomic patterns in diabetic (db/db) mice and on glucose metabolism in healthy humans. BMC Pharmacol. 2004 Aug 26;4(1):18. PMID:15331020.
Unno K, Takabayashi F, Kishido T, Oku N. Suppressive effect of green tea catechins on morphologic and functional regression of the brain in aged mice with accelerated senescence (SAMP10). Exp Gerontol. 2004 Jul;39(7):1027-34. PMID:15236762.
Vinson JA, Teufel K, Wu N. Green and black teas inhibit atherosclerosis by lipid, antioxidant, and fibrinolytic mechanisms. J Agric Food Chem. 2004 Jun 2;52(11):3661-5. PMID:15161246.
Weinreb O, Mandel S, Amit T, Youdim MB. Neurological mechanisms of green tea polyphenols in Alzheimer's and Parkinson's diseases. J Nutr Biochem. 2004 Sep;15(9):506-16. PMID:15350981.
Wu LY, Juan CC, Ho LT, Hsu YP, Hwang LS. Effect of green tea supplementation on insulin sensitivity in Sprague-Dawley rats. J Agric Food Chem. 2004 Feb 11;52(3):643-8. PMID:14759162.
Wu LY, Juan CC, Hwang LS, Hsu YP, Ho pH, Ho LT. Green tea supplementation ameliorates insulin resistance and increases glucose transporter IV content in a fructose-fed rat model. Eur J Nutr. 2004 Apr;43(2):116-24. PMID:15083319.
Yang G, Shu XO, Li H, Chow WH, Ji BT, Zhang X, Gao YT, Zheng W. Prospective cohort study of green tea consumption and colorectal cancer risk in women. Cancer Epidemiol Biomarkers Prev. 2007 Jun;16(6):1219-23. PMID:17548688.
Yang YC, Lu FH, Wu JS, Wu CH, Chang CJ. The protective effect of habitual tea consumption on hypertension. Arch Intern Med. 2004 Jul 26;164(14):1534-40. 15277285.
Ying CJ, sun XF, Zhang SL, Zhang XP, Mao LM, Zuo XZ, Yao P. ROS-related enzyme expressions in endothelial cells regulated by tea polyphenols. Biomed Environ Sci. 2004 Mar;17(1):33-9. PMID:15202862.
Yun JH, Pang EK, Kim CS, Yoo YJ, Cho KS, Chai JK, Kim CK, Choi SH. Inhibitory effects of green tea polyphenol (-)-epigallocatechin gallate on the expression of matrix metalloproteinase-9 and on the formation of osteoclasts. J Periodontal Res. 2004 Oct;39(5):300-7. PMID:15324350.
Zhang M, Lee AH, Binns CW, Xie X. Green tea consumption enhances survival of epithelial ovarian cancer. Int J cancer. 2004 Nov 10;112(3):465-9. PMID:15382073.
Zhang XH, Andreotti G, Gao YT, Deng J, Liu E, Rashid A, Wu K, sun L, Sakoda LC, Cheng JR, Shen MC, Wang BS, Han TQ, Zhang BH, Gridley G, Fraumeni JF Jr, Hsing AW. Tea drinking and the risk of biliary tract cancers and biliary stones: a population-based case-control study in Shanghai, China. Int J cancer. 2006 Jun 15;118(12):3089-94. PMID:16395699.