This is a great
soup
that is highly nutritious and filling made out of
lentils
and carrots. Its a great one for the autumn season and is extremely simple to make.
Ingredients
1 tbsp olive oil, coconut oil or butter
2 crushed garlic cloves
2 large celery sticks, sliced
1 onion chopped
4 carrots, medium-sized, sliced
200g (7oz) red split lentils, rinsed
1 litre (around 2 pints) hot vegetable stock
ground pepper, freshly ground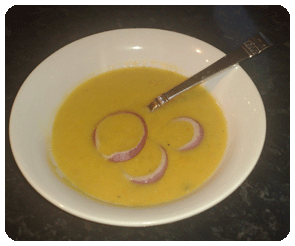 Preparation
Heat the oil in a large saucepan and sweat the garlic and onion for 5-8 minutes to soften. Then add the celery, carrots, lentils and stock. Stir and bring to the boil.
Then cover the saucepan and simmer for 12 minutes to allow the carrots to become soft. After this, use a hand-held blender or a liquidiser.
You can season with black pepper. You can also add a little fresh coriander, some parsley, or sliced red onions.