Spring is the beginning of the vegetable growing season, so now is the time to start sowing
seeds
for your
fruit
,
herbs
and
vegetables
.
Some seeds can be sown directly into the soil outside if the weather and soil conditions are right, and depending on what crops you are growing. However, sowing seeds indoors is the ideal way to get your vegetables off to an early start.
Sowing seeds Indoors in Trays
Seeds sown indoors are usually grown in pots or modular seed trays. These are shallow trays, sometimes with individual modules designed to plant each seed separately, making it easier to remove the seedlings when they are big enough to plant out. Some also come with lids, which act as a mini-greenhouse and keep the seeds warm to speed up germination. This is especially important for plants like tomatoes or courgettes, and are useful if you do not have a greenhouse.
To sow seeds indoors, fill the trays or pots with fine compost and add the seeds. Follow the instructions given on the packet of seeds, as different seeds have different sowing requirements. Don't forget to label your seed trays so you know what they are.
After sowing the seeds, cover the trays with a propagator lid if necessary, water them thoroughly and place in a warm, light position to allow them to germinate. Remember to water the trays regularly.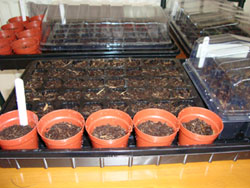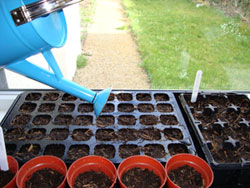 Growing Potatoes
Potatoes are grown from tubers, or sprouted potatoes. They are fairly simple to grow, but do require a lot of space.
Place the seed tubers in a light, cool place to sprout (this is known as chitting). A good place is a kitchen windowsill.
The potatoes will take about six weeks before they are ready to plant out, or when the shoots are 1.5-2.5 cm (0.5-1 in) long.
Potatoes can be grown directly in the ground or in a large pot or bin.
When they are ready, gently set the tubers into the soil with the shoots pointing upwards. Cover lightly with soil.
As soon as the shoots appear, earth up each row by covering it with a ridge of soil so that the shoots are just buried. Do this regularly to protect the shoots from frost.
Your home-grown potatoes should be ready for lifting and eating about three-six months after planting, depending on the varieties and the growing conditions.