Sprouts are a super-nutritious food made by
sprouting
beans
or
seeds
into young shoots. They can be enjoyed raw and blended into
dips
or spreads for a tasty snack or starter.
Hummus with Chickpea sprouts
This is a variation on traditional hummus, which is made with boiled chickpeas. This delicious recipe uses raw chickpea sprouts which are high in vitamins A and C.
Ingredients
2 cups sprouted chickpeas
2 tbsp tahini
Juice of 1 lemon
2 cloves garlic
½ tsp sea salt
½ tsp paprika (optional)
2 tbsp olive oil
Preparation
Blend all the ingredients in a food processor, adding some water if necessary to make a smooth and creamy paste.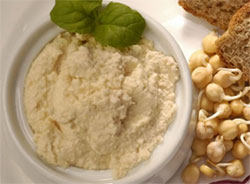 Mixed sprout Dip
Blend together any combination of raw mixed sprouts with fresh avocado, lemon juice and fresh coriander to create a mouth-watering dip.