Sauerkraut is a Superfood and Excellent Tonic For the Digestive System
Sauerkraut means "sour cabbage" and refers to finely shredded cabbage which has been fermented by lactic acid bacteria. In this process, the bacteria produce and release the vitamins, minerals and phytonutrients present in the cabbage, creating a pre-digested, highly beneficial food. It is actually the secret to the health and longevity of the cultures and civilizations in whose diet it features heavily. It is an immune booster, a proven cancer fighter, and an excellent digestive aid, and helps to relieve the body of common ailments through regulation and toning of the digestive system.
NOTE: The gut essentially makes up the immune system and is like a brain in its own right - refer to this book. There are ten times more bacteria in your gut, (100 trillion), than there are cells in your entire body, the weight of this amount of bacteria is nearly two kilos, and with the exception of the liver, they collectively form the largest organ inside your body. Each day several ounces are produced and eliminated. The total surface area of your intestine and colon (where these bacteria reside) is larger than a tennis court. These bacteria can exist in a symbiotic (mutually beneficial) relationship with you, or a harmful relationship with you, and these bacteria are crucial to the maintenance and operation of your entire body. This shows that your gut (esophagus, stomach, duodenum, small intestine, colon) is very sensitive ecosystem, is integral to your health and constitutes 80% of your immune system. Many Muslim scholars past and present have stated that all disease has its foundation in dysbiosis (which means impaired digestive ability, putrefaction, fermentation, sensitivity etc. in the gut) and they have likewise stated that the foundation of all medicine is taking precautions in the diet.
NOTE: Sour milk (laban) is milk that has turned acidic, it is the same principle at work, and it is the secret of the good health of many cultures and civilizations, including those who live in the mountainous regions of the Caucasus, the Arabs and others.
How to Make sauerkraut
There are many recipes available and you can use just plain white cabbage, or you can be more adventurous and make up your own speciality. Here we are going to use both white and purple cabbage, and add small onions, bell peppers, carrots, broccoli, and some seeds and herbs to add some flavour. We are going to make a large batch and it will last a few months. Be warned that making sauerkraut, especially in large amounts, will get very, very messy!
Things you will need:
Six medium sized white cabbages
One large purple cabbage
Some broccoli
Three bell peppers, green, red, orange
Fifteen small white onions
Eight medium sized carrots
A bulb of garlic
A large grater (takes more time) or a food processor (easier!)
A few large bowls
Three or four Kilner jars
Sea salt
Boiled water left to cool (preferably not tap water)
Here, seeing is better: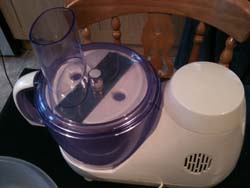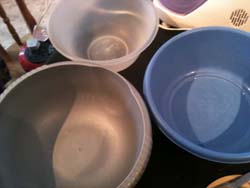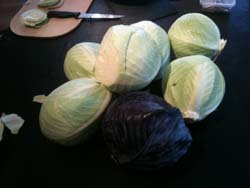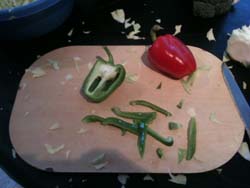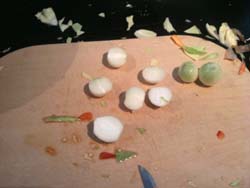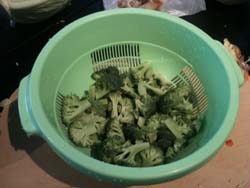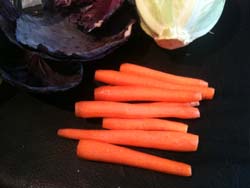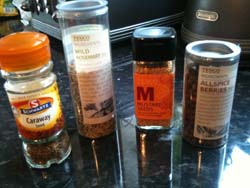 Preparation of the Ingredients
First, take off the outer three or four leaves of the cabbage, and keep hold of them, they will come to use later on. Then shred the cabbage. You will need a large knife to slice the cabbage into sizeable amounts that will fit into your processor. At the bottom of the cabbage is the hard root, you want to cut around that and discard it at the end. You can use a grater (much slower and messier), or you can use a food processor for shredding, you will save a lot of time this way! Slice the bell pepers, slice the carrots into thin pieces (we used the processor), or you can grate them if you want. Peel and cut the onions into half, or you can add them whole, after removing the skin.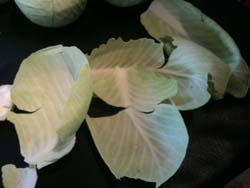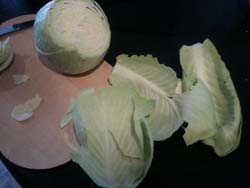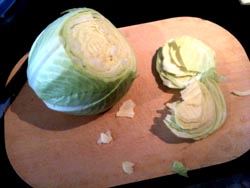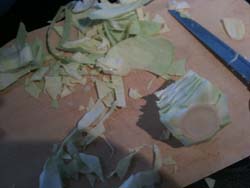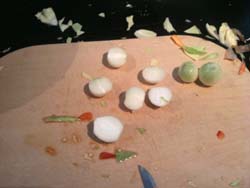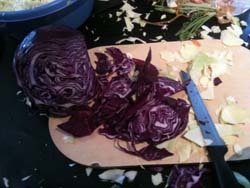 Put the shredded cabbage into the large bowls, and then add sea salt. You will need to add a teaspoon for each medium to large cabbage you have used (1.5 teaspoons salt for each kilo of cabbage is a rough guide). Then you will need to mix the salt into the cabbage with your hands, and should be done thoroughly. The salt helps to release the water from the cabbage and this is very important, this helps the fermentation process to initiate after we package the ingredients into the jars. The salt also inihibits pathogens and spoilage organisms, and allows only the good bacteria to thrive.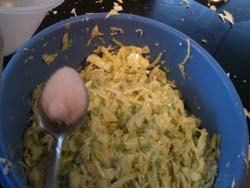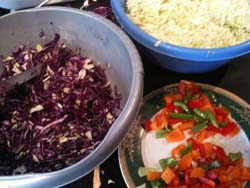 Then you can add the rest of the ingredients, the onions, broccoli, carrots, garlic cloves and peppers. Finally, you can add the wild rosemary, mustard seeds, caraway seeds, and we also added some black seeds too. Don't add too much, just a bit of each, you want enough to add a little flavour, otherwise, the seeds and herbs might dominate the flavour too much. You should leave this for around 30-60 minutes and you should also mix it thoroughly with your hands and also press and push the cabbage to release the water.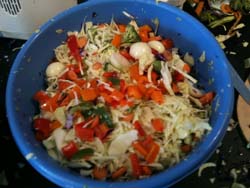 Packing the sauerkraut into Kilner Jars
Now it gets even messier, packaging the jars. Take your jars and add the cabbage mix. You need to really pack it tight, so you will need to form a fist and compact the cabbage as much as possible. Alternatively you can use a roller or something similar if you can't get your fist in. Package it right to the top, making sure you compact it as much as possible, and leave around an inch and a half from the top of the jar. You will notice that a lot of water is released, and as you compact and push the cabbage mix down, it will rise higher.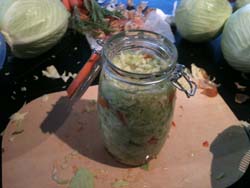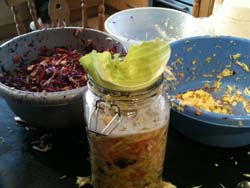 If you remember the leaves we took off the cabbage at the very beginning, this is where they come in handy. You need to take one leaf and then place it on top of the cabbage mix, and then push it down. The aim is to try and cover the top of the cabbage mix completely. Then, if necessary add the boiled water (after it has cooled) to the jar so as to completely submerge everything. We are ensuring there is no air at all, since the fermentation process is anaerobic.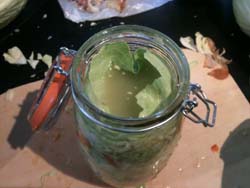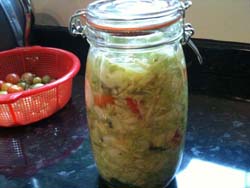 Get the rest of your cabbage packaged into the kilner jars in the same way.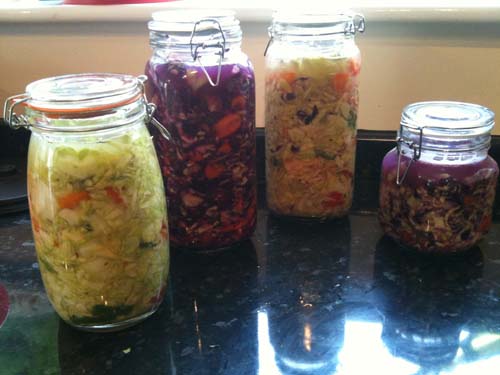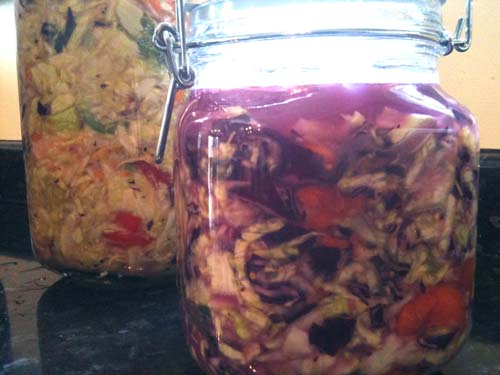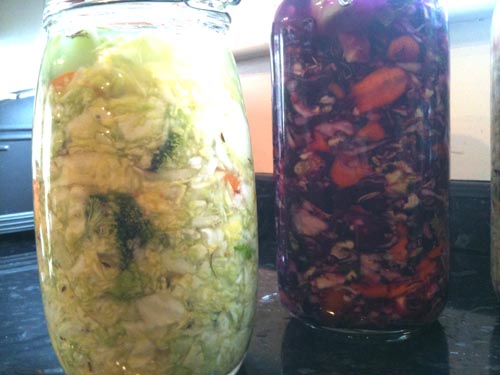 Fermentation Process
First you need to leave these jars at room temperature (around 21-23 celcious, 70-73 farenheit) for three to four days, and keep them covered with a towel, away from light. This provides the right temperature for the first batch of bacteria to thrive and provide the acidic environment for the later bacteria, the Lactobacillus species. These lactic acid bacteria start to release all the goodness from the cabbage and produce vitamins, enzymes, minerals, phytonutrients and so on.
NOTE: Commercially produced sauerkraut it pasteurised so you will be losing a large share of the benefit as the enzymes will have been destroyed!
After those three or four days, you then need to move the jars to a cooler place (around 15 celcius or 60 farenheit). The longer you leave it, the more mature and better the sauerkraut gets. We normally leave for around 3 weeks. After this you can then place in the fridge in a seal-tight container where it will last for a few months. The juice is extremely healthy, as it will contain a lot of the released nutrients, so you will not want to discard that, but keep it separately and keep it refrigerated.
How To Consume
You can have a portion of sauerkraut daily on its own, or you can add it to meals to aid digestion. It is rich in vitamins, minerals, enzymes and phytonutrients and hence will aid digestion, as well as keep the gut in order, and help maintain bacterial equilibrium, which is integrally tied to health and well-being.
Closing Note
The key to good health is eating nutritious food, balanced in the right amounts and keeping the gut (esophagus, stomach, small intestine, colon) in good order. Ensuring your diet consists of a high amount of whole foods and pre-digested foods [foods which contain everything needed to digest it] does away with a) your body having to consume its own resources in order to digest food and b) from having improperly digested food from passing through the gut (which leads to disease conditions). This is the simple secret to the good health and longevity of certain cultures. This is also why those who eat mostly processed and cooked foods (or eat more than what is actually necessary) decline earlier and find many ailments early in age, and are more easily susceptible to contracting diseases, because the body has been consuming much of its own resources and reserves in order to digest deficient food, thereby compromising its robust, healthy state.