Sprouted
seeds
are
seeds
that are grown specifically to be eaten as young baby shoots or as small tender-leaved plants.
Sprouts are super-nutritious, packed with vitamins, minerals, proteins, antioxidants and phytonutrients which are released when the seed germinates. They have a higher nutritional value than a lot of vegetables, especially supermarket vegetables, and are a real example of 'living food'. They are undoubtedly the freshest food you will eat.
Sprouted seeds can easily be grown and harvested at home organically and cheaply.
How to sprout your own seeds: All you need to sprout your own seeds at home is: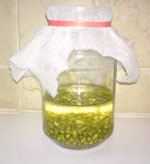 The seeds to be sprouted are placed in the jar, filling about one fifth of it. It is important not to pack the seeds too closely together, as they will not receive enough air or light. A small amount of seeds will produce a lot of sprouts, so you will not need many.
The jar is then filled about halfway with water, ensuring that all seeds are thoroughly covered. Place the square of muslin on top of the jar and secure with the rubber band. Leave the sprouts to soak overnight for at least 6 hours, or longer if the sprouts are larger. Then drain the water through the muslin cloth. The muslin cloth acts as a sieve and does not need to be removed until the sprouts are ready to eat.
Rinse and drain the sprouts twice a day for a few days until the shoots begin to appear. Once the shoots are at least as long as the seed/bean, etc, the sprouts are ready to eat. They should then be stored in an airtight container in the fridge.
What to sprout:
Sprouts can either be seeds, grains, pulses or beans. They can be eaten raw in salads or sandwiches, or lightly stirfried. A few of the more popular sprouts are given below.
A selection of different seeds can be sprouted in the same jar to create a tasty and nutritious mix. To enjoy a constant supply of fresh sprouts it is advisable to start a new jar every 2-3 days so that while one jar is germinating, another is ready to eat.
So now you know how simple it is to do, have a go yourself and start enjoying the nutritional benefits of sprouting your own seeds.